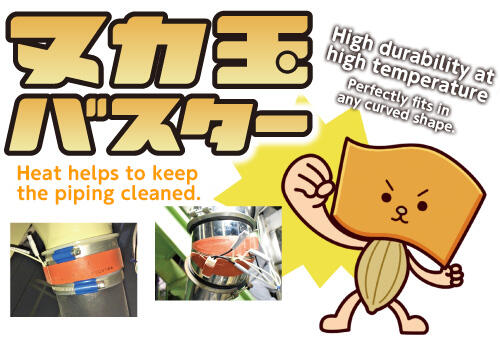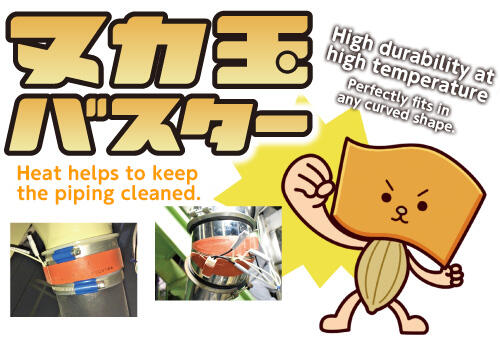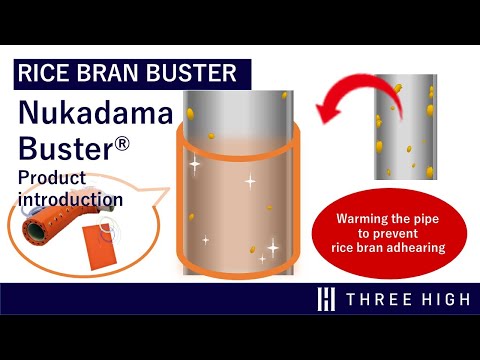 Nukadama Buster ®
Heat resistant 200°C
Heat resistant 260°C
RoHS2 Compliance
Order
The Nukadama Buster is our original product that uses the silicone rubber heater.
Through warming pipes with the Nukatama Remover, the flow of the rice inside the pipes is improved and it prevents the sticking of rice bran.
The time required to clean the pipes can be reduced, which means that the working hours can be reduced.
※ "Nukadama Buster" is a registered trademark of ThreeHigh Co., Ltd. in Japan.
For more details
This is an original product for the rice milling industry that uses our main product, silicone rubber heater.
Flexible
The silicone rubber heater is - unlike metal heaters - flexible and flat heating element.
This is a structure in which resistance wires are patterned between two silicone sheets calendered from glass cloth.
Excellent flexibility and can be fitted to pipes, cylinders and other curved surfaces.
It is a thin sheet with a standard thickness of 1.5mm, so it has excellent thermal responsiveness.
High durability
Silicone rubber heaters can be used continuously at temperatures of 200℃ (or 260℃) with a long service life.
Silicone rubber heater has heat-resistant electrical insulation, but do not have a self-temperature control function for the heater itself. Be sure to control the heater's temperature when using high power density.
※ We recommend our digital temperature controllers, "monoOne" series.
Manufactured on request
We do not charge design or mold costs.
Silicone rubber heaters were developed by NASA in the U.S. around 1965, and are now used in all industries as precision heater components or equipment.
Silicone rubber heaters can be manufactured in a short period of time, even if ordered a single piece, through a special manufacturing method.
Form-free design
Fused to the required technology, it can be manufactured with a form-free design.
If there is a simple sketch or drawing, we will design according to the shape of the object to be heated (such as circular, perforated, any other unusual shape).
Design with various voltages possible, from only a few voltage up to 240V.
Overview
Available manufacturing from one, regardless of shape.
Rubber piping heaters are compatible with a wide range from 20A to 750A. Easy to attach/detach and suitable for various pipes. Of course, we suggest a temperature controller as well.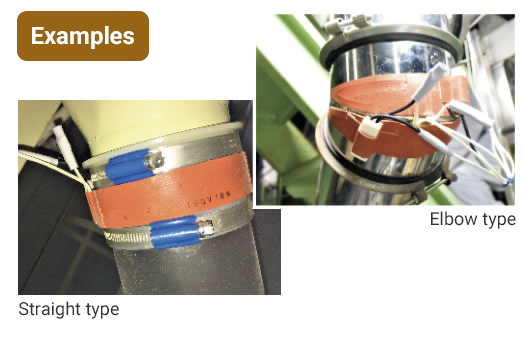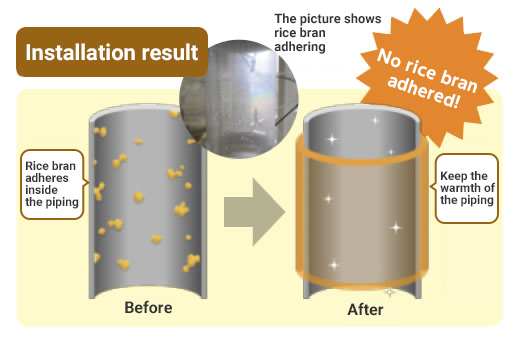 CAUTION
Fire risk! Do not use the heater in mid-air or when placed on an unstable surface.
When placing the heater between a metal plate and an object to be heated, make sure that the lead wire does not touch the metal plate.
This product should not be used in an atmosphere containing steam, water, corrosive gases, etc.
Cutting holes in the heater is not possible. Also, it can no longer be used if the rubber is damaged.
Do not use the product above the rated voltage (V).
Be sure to turn off the power when removing the heater from the object to be heated. Also, do not touch the heater immediately after the power is turned off.
If the gap between the heater and the object to be heated is large, the temperature rises abnormally. Care must be taken when fixing the heater in place.
Electrical Characteristics

Minimum voltage: Please contact us for further information.
Maximum voltage: Up to 240V. (If above 240V, please contact us.)
Electrical capacity tolerance: ±10%
Withstand voltage: AC1500V for 1 minute
Insulation resistance: 100 MΩ or more / 500 VDC

Manufacturing dimensions
20A to 750A (if above the range, please contact us.)
Heat resistance temperature
200°C (continuous 180°C)
Standard power density
0.3W/cm2
Installation option
Bi-metal thermostat / Velcro tape / Double-sided tape
Temperature control

Analog type
Suitable for rough temperature control (0 to 100°C variable knob type, etc.)
Digital type
Suitable for accurate temperature control
※ We recommend our digital temperature controllers, "monoOne" series.

Product size examples (main unit)

Product name
Voltage
Wattage
Size (mm x mm)
Straight type
100V
18W
110 x 25
Elbow type
100V
10W
150 x 25
100V
10W
160 x 30

※ The voltage (V), wattage (W), and the size can be changed according to your request. Please contact us.
Customer viewed this item also viewed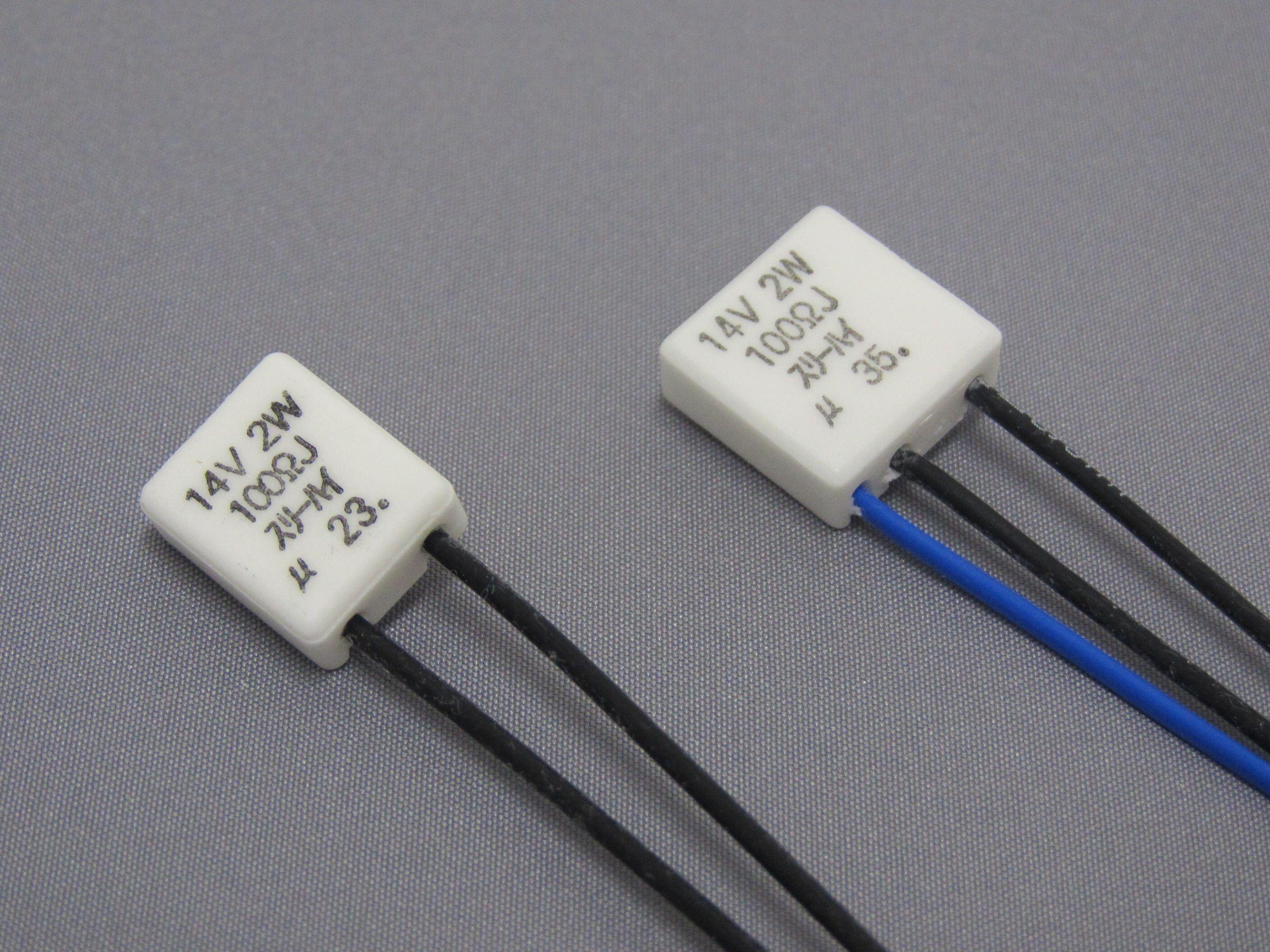 In stock
Heat resistant 200°C
RoHS2 Compliance
Cementing spot heater MASANORI ®
Two types of 14V/100V, locally heat up to 140℃. Ultra-compact heater of 11 x 13mm. K thermocouple is also available.
Details / Quotation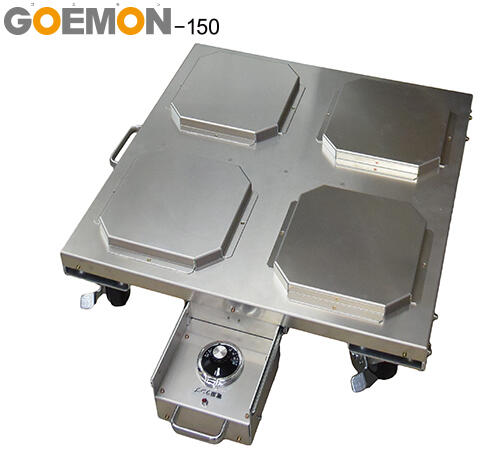 In stock
Semi Order
Order
Bottom Heater (GOEMON-150)
Heater for 18L and 20L can containers and pail containers
Four containers can be heated simultaneously. They can be heated directly from the bottom of the container, just by placing the container on the heater.
Details / Quotation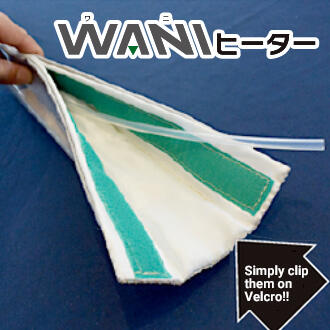 In stock
RoHS Compliance
Semi Order
Order
Heat resistant 120°C
WANI heater for thin pipes
A heater with integrated heat insulation material that can be attached to thin metal pipes and tubes just by pinching them like a crocodile clip.
Details / Quotation