Company Info
Corporate philosophy
We care about things,
we care about people.
We want to warm things and people through the manufacture of heaters.
This is what we have in our mind when we communicate with our customers.
Our customers' happiness is our greatest pleasure.
Vision
We bring warmth
We want to deliver warmth to the factories, to the community, to the town, and to the world. We want to make our employees, our families, our customers, and our community feel warm with us. It is our goal to spread warmth through smiles and laughter. That is why we are manufacturing industrial heaters and nurturing manufacturers and carriers all over the world. This is what we do.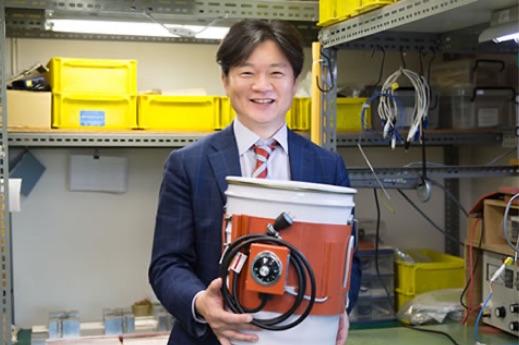 Our mission since the beginning.
"ThreeHigh" consists of three "High"s.
【High-Technology】confidence in our level of technology (skill)
【High-Touch】 being passionate in our communication and interaction with people (customer service)
【High-Fashion】 creation of high quality products and services (creativity)
"Manufacturing" involves the feelings of many people.
If you only look at an item, it may seem like a simple commodity. But there are many people connected with a product: Those involved in planning, manufacturing the individual parts and assembling the product, but also those using the item and later on replacing it again.
That is why we are strongly committed to the manufacturing process itself, and want to create heaters that can be used by every customer at every occasion, rather than standard products. We also strive to understand the feelings of all the people involved in the manufacturing of heaters, as well as the feelings of our customers who use them. This is our corporate philosophy, "We care about things, we care about people."
Makoto Ozawa
C.E.O.
ThreeHigh Co.,Ltd.
Our thoughts about
Manufacturing
Let's make
valued things.
Let's make
them made in Japan.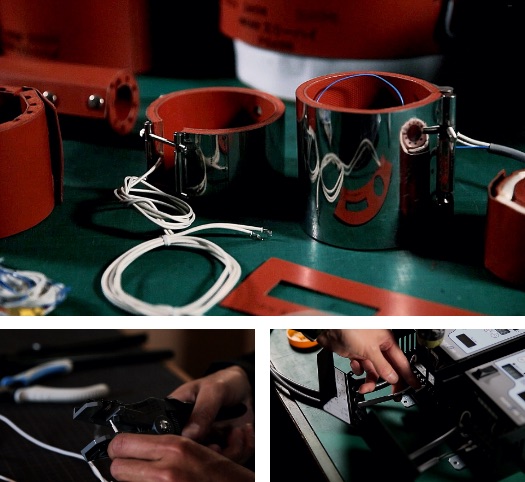 We have been committed to manufacturing and our products, and have recieved customer full satisfaction.
As a company specializing in silicone rubber heaters, ThreeHigh will keep engaging in this highly specialized industry. We visit our customers all over Japan, listen to their requests, and reflect their ideas in our products. This is why many customers have chosen us as this is how we think a manufacturing company should be.
Through keeping to our philosophy we strive to meet our customers' and requirements.
This is the one and only mission of ThreeHigh as a manufacturer.
Nothings makes us happier than to have opportunities of manufacturing and meeting the expectations of our customers.
We are and will continue working sincerely in manufacturing while taking the words of our customers to heart.
Company Overview
and History
Company Overview
Company Name
ThreeHigh Co., Ltd.
Founded
1987
Established
1990
Investment capital
30 million yen
C.E.O.
Makoto Ozawa
Main Bank
Mizonokuchi Branch of Sumitomo Mitsui Banking Corporation
Takada Branch of the Yokohama Shinkin Bank
Address

Head Office and Factory


4-42-16 Higashiyamata, Tsuzuki Ward, Yokohama City, Kanagawa 224-0023 JAPAN
TEL:+81-45-590-5561 FAX:+81-45-590-5571
Business content

Silicone rubber heater
Heater for drum containers and cylinders
Heater for piping
Heater for hot plates
Cord Heater and Belt Heater
Ribbon heater (tape heater)
Mantle heater
Cementing spot heater
Heating hose
Insulation jacket
Temperature controller
Thermostat
Temperature sensor

Manufacture and sale of the above products
History
1987
Started manufacturing and selling heaters
1990
Established ThreeHigh Co.,Ltd. with its head office in Kawasaki City, Kanagawa
1994
Opened the Nagoya Factory in Nagoya City, Aichi Prefecture
1995
Relocated to Miyamae ward, Kawasaki city to diversify the business
1996
Launch of insulation jackets for various drum containers
1997

Established the Nagoya Factory as a local factory to strengthen our sales office
Launched "K-11" heater for pail containers and 5 gallon containers
Launched "K-21" drum heater
Launched "K-22" drum heater
Launched "K-31" heater for 4 & 6 liter can containers
Launched "THC-15" digital temperature controller

2001

Improved the "K-31" heater to be compatible with mini-can containers from Φ170 to Φ244.
Started selling "Silicone Sponge"

2002

Launched "Ribbon heater (tape heater)"
Launched "Silicon Cord Heater"
Launched "Silicon Belt Heater"

2003

Launched "Cylinder Heater"
Launched "K-11W" heater for pail containers and 5 gallon containers
Launched "K-21W" drum heater
Launched "K-22W" drum heater
Launched "K-31W" heater for mini-can containers

2004
Moved headquarters office to current location
2005
Acquired ISO14001
2007

Acquired ISO9001
Participated in the career guidance provided by the Ministry of Education, Culture, Sports, Science and Technology

2008

Received the "3rd Excellent Company Award from Yokohama Chamber of Commerce and Industry"
Participated in the career guidance provided by the Ministry of Education, Culture, Sports, Science and Technology

2009

Makoto Ozawa is assigned to C.E.O.
Participated in the career guidance provided by the Ministry of Education, Culture, Sports, Science and Technology

2010

Launched temperature controller "monoone-100/100T"
Certified as "Yokohama Local Contribution Company"
Certified as "Made in Tsuzuki" local company
Participated in the career guidance provided by the Ministry of Education, Culture, Sports, Science and Technology
Certified as "Yokohama Local Valuable Company"

2011

Launched temperature controller "monoone-200"
Received the "Excellent Factory of Yokohama Award"
Certified as "Yokohama Intellectual Property Mirai Corporation" (renewal)
Certified as "Made in Tsuzuki" local company (renewal)
Certified as "Green Site-licensed Participating Company"
Participated in the career guidance provided by the Ministry of Education, Culture, Sports, Science and Technology (renewal)

2012

Launched cementing spot heater "MASANORI"
Launched "K-21W-PSE" PSE-compatible drum heater
Launched "K-11W-PSE" PSE-compatible heater for pail containers and 5 gallon containers
Launched temperature controller "monoone-120/120T"
Certified as "Yokohama Intellectual Property Mirai Corporation" (renewal)
Certified as "Made in Tsuzuki" local company (renewal)
Certified as "Yokohama Local Contribution Company" (highest certification)
Received "Yokohama Chamber of Commerce and Industry Excellence Award" (C.E.O.)
Participated in the career guidance provided by the Ministry of Education, Culture, Sports, Science and Technology (renewal)

2013

Launched temperature controller "monoone-80"
Launched temperature controller "monoone+"
Certified as "Made in Tsuzuki" local company (renewal)
Certified as"Yokohama Intellectual Property Mirai Corporation" (renewal)
Participated in the career guidance provided by the Ministry of Education, Culture, Sports, Science and Technology (renewal)
Featured on TV news "Good Morning Japan" of NHK

2014

Received "Kanagawa middle and small-sized companies' model factory" award
Certified as "Made in Tsuzuki" local company (renewal)
Certified as "Yokohama Intellectual Property Mirai Corporation" (renewal)
Certified as "Yokohama Local Contribution Company" (highest certification)
Participated in the career guidance provided by the Ministry of Education, Culture, Sports, Science and Technology (renewal)
Received special award of "8th Kanagawa Child and Child Care Award"

2015

Featured on TV program of TV Kanagawa "News Harbor"
Certified as "Made in Tsuzuki" local company (renewal)
Certified as "Yokohama Intellectual Property Mirai Corporation" (renewal)
Participated in the career guidance provided by the Ministry of Education, Culture, Sports, Science and Technology (renewal)
Received Incentive award of the "9th Yomiuri Child Raising Support Group Award"
Received "ISO14001 - 10 year continuation award" (certified)

2016

Certified as "Made in Tsuzuki" local company(renewal)
Certified as "Yokohama Intellectual Property Mirai Corporation" (renewal)
Certified as "Yokohama Local Contribution Company" (highest certification)
Participated in the career guidance provided by the Ministry of Education, Culture, Sports, Science and Technology (renewal)
Certified as "Yokohama Local Contribution Company" (highest certification)
Received excellence award of "Industrial Navi Grand Prize Sales Division"
Established the Institute of Yokohama Model, Town and Human Development

2017

Certified as "Made in Tsuzuki" local company (renewal)
Certified as "Yokohama Intellectual Property Mirai Corporation" (renewal)
Participated in the career guidance provided by the Ministry of Education, Culture, Sports, Science and Technology (renewal)
Visit of Mayor Hayashi of Yokohama City and Mayor Hatazawa of Tsuzuki ward
Launched "GOEMON-100" bottom heater for 5 gallon container and pail container
Certified as "1st Kanagawa ace company"
Recevied "Middle and small-sized companies model factory award"

2018

Featured on TV program of TV Kanagawa "Kanagawa Business Up To Date"
Certified as "Made in Tsuzuki" local company (renewal)
Participated in the career guidance provided by the Ministry of Education, Culture, Sports, Science and Technology (renewal)
Certified as "Yokohama Local Contribution Company" (Premium company)
Opened our 3rd factory to expand operations
Recevied "Middle and small-sized companies model factory award" (continuous)

2019

Basic agreement on internship with Mapua University (Philippines)
Certified as "Yokohama Intellectual Property Mirai Corporation" (renewal)
Certified as "Made in Tsuzuki" local company (renewal)
Participated in the career guidance provided by the Ministry of Education, Culture, Sports, Science and Technology (renewal)
Recevied "Middle and small-sized companies model factory award" (continued)

2020

Certified as "Yokohama Intellectual Property Mirai Corporation" (renewal)
Certified as "Made in Tsuzuki" local company (renewal)
Participated in the career guidance provided by the Ministry of Education, Culture, Sports, Science and Technology (renewal)
Received "Incentive Award of 3rd Local Industry Revitalization Award"
Certified as Kanagawa SDGs Partner
Received "10 years of Yokohama Local Contribution Company Award"
Launched temperature controller "monoone+ B" and "monoone+ W"
Selected as "Company subjects to support for development of overseas markets"
Received "Middle and small-sized companies model factory award" (continued)
Website renewal
Launched New original product "Wani Heater"
Cabinet Office Minister of State for Special Missions Commendation "Children and Families / Youth Support Group Award (Children / Youth Development Support Division)" (Award)
Launched Silicone sponge Square strips "white/dark gray"
Appeared on FM Yokohama "Just Right Radio"
Launched New origial product "Nukatama Buster"

2021

Certified as "Yokohama Intellectual Property Mirai Corporation" (renewal)
Certified as "Yokohama Local Contribution Company" (highest certification)
Certified as "Made in Tsuzuki" local company (renewal)
Participated in the career guidance provided by the Ministry of Education, Culture, Sports, Science and Technology (renewal)
Certified as Kanagawa SDGs Partner
Selected as "Company subjects to support for development of overseas markets"
Received "Middle and small-sized companies model factory award" (continued)
Open own EC site
Published in "IDEC Yokohama Support Cases 2021"
30th anniversary rebranding and logo renewal
Yokohama City SDGs Certification System "Y-SDGs" Upper Category "Superior" (Certification)
Launched "KINZO," a silicone sponge that reacts to metal detectors.
Launched "Pipes heater", a heater exclusively for piping.
Launched new sensor "TH-8500" screw-on stick type.
Appearance on TV Kanagawa "Hamanavi"
"monoOne" is registered as a trademark.

2022

Certified as "Yokohama Intellectual Property Mirai Corporation" (renewal)
Certified as "Yokohama Local Contribution Company" (highest certification)
Certified as "Made in Tsuzuki" local company (renewal)
Participated in the career guidance provided by the Ministry of Education, Culture, Sports, Science and Technology (renewal)
Certified as Kanagawa SDGs Partner
Selected as "Company subjects to support for development of overseas markets"
Received "Middle and small-sized companies model factory award" (continued)
Recognized as a 2022 Certified Health and Productivity Management Organization (Small and Medium Enterprise Category)
Capital increased to 20 million yen
Certified as "Kanagawa ace company"in 2022
Exhibition
2020

Exhibited at Technical Show Yokohama 2020
Exhibited at the online exhibition "Industry EXPO Virtual Exhibition" (open until October 13, 2021)
Participated in the online exhibition "FBC Hanoi / FBC Bangkok"

2021

Exhibited at Technical Show Yokohama 2021
Participated in the online exhibition "Yokohama VR Exhibition 'YOKOHAMA VIRTUAL EXPO'" (open to the public until March 31, 2022)
Exhibited at Smart Factory Japan 2021

2022

Exhibited at Technical Show Yokohama 2022
Exhibited at Healthcare IT2022
Exhibited at Medtec Japan 2022
Exhibited at PROPAK ASIA 2022 (Bangkok, Thailand)
Exhibited at METALEX VITNAM 2022
Exhibited at Hokuriku Techno Fair 2022
Exhibited at Smart Factory Japan 2022