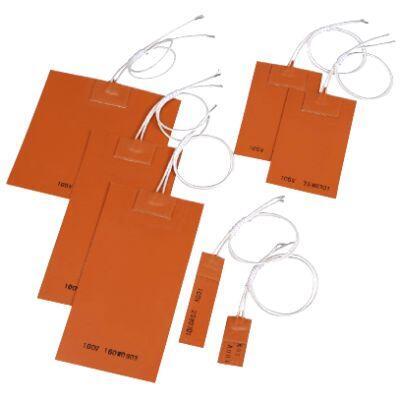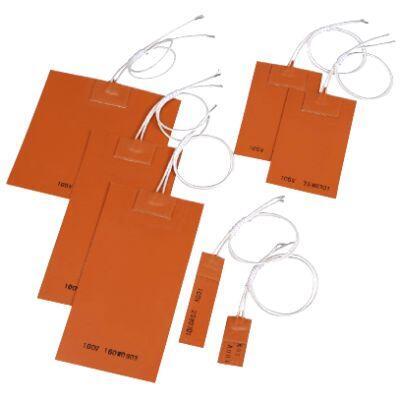 Custom made heater
Heat resistant 200°C
Heat resistant 260°C
RoHS2 Compliance
Order
Semi Order
Thin and flexible. We can design for one item order. Our silicone rubber heaters have satisfied a lot of customers' demands which are for antifreeze, heating up to 200 ℃ and so on.
For more details
We are a specialized manufacturer on silicone rubber heaters. That's why many customers, industrial corporations, educational organizations and research firms, have chosen our products and services. We will be a powerful supporter for your manufacturing with not only mass productions but also one item order.
Flexible
The biggest difference between a silicone rubber heater and a metal heater is a flexibility to fit on every surface.
Silicone rubber heater is made from heating wire put in between two sheets of silicones, which are calendar-processed. The heating wire is patterned.
It has a high flexibility and can fit nice and tight on curve shapes and cylinders.
Our standard sheets are just only 1.5mm thick so it has a quick responsibility for heating up.
Longer heater life
Silicone rubber heater is a long-life product even though it's kept it heat up 200(or 260) ℃.
Silicone rubber heater has a heat resistance feature; however, it cannot control its temperature by itself. So, you have to control the temperature while using on high power density.
A tip:
We recommend our digital temperature controller "monoOne series" in such case.
Can design for one item order
We don't take a designing fee and a mold cost.
In 1965, U.S. NASA developed the first silicone rubber heater. Since then, silicone rubber heaters are built in many products in various industries in Japan.
Our special manufacturing process let us make silicone rubber heater products in short delivery time even if it is a just one item order.
High design capability
By integrating technological demands, we are able to design heaters as you like.
Based on any drawing or illustration, we design silicone rubber heaters which will perfectly fit to your products like circle and complicated shapes including holes.
We can design the heater's voltage from couple of volts to 240Vs.
Overview
Silicone rubber heater is a surface heater, which has a flexibility to fit on every surface not like metal heater.
It has a high durability even if on the continuous 200 ℃ use. Also, it has a high design freedom, so silicone rubber heaters are working in various industries.
High design capability
Surface heater
Sheets are made of calendar-processed glass cloths
High design freedom
Fit on circle, complicated shapes including holes and radius shapes
Excellent thermal response
Only 1.5mm thick
Fit on everything
Heaters but made from soft materials
CAUTION
DO NOT heat the heater in the air. It could make a fire. Also, the heater must be bonded on the surface with no gap.
If the heater will be installed between the components to heat up and metal sheet, be careful lead wire not to touch the metal sheet.
DO NOT use in steam, in water or in corrosive gas environment.
DO NOT make hole to the heater. DO NOT use the heater has a scratch on the surface rubber.
DO NOT use the heater over the rated voltage.
If you put out the heater from the component, you must turn off the power. DO NOT touch the heater soon after power off.
If there are a gap between the heater and mount location, the heater will have unusual high temperature. Customers are to ensure a uniform and proper interface between the heater and the mount location.
Basic structure
Our silicone rubber heater is made from heating wire put in between two sheets of silicones. For making it thin integrated sheet, we vacuum the air inside and do compression press process.

How to install
By using silicone-heat-resist adhesive (100g in tube)
Put adhesive, which is designed for silicone rubber heater, and glue it into objects to be heated.
By double-side tape (100 or 200 ℃ heat resist)
Put the double-side tape to backside of silicone rubber heater and glue it into objects to be heated. (Attention: Customers can not put double-side tape by themselves)
By baking process
We can bond them together by integrated baking process in our factory for tube shapes
By using Velcro tape, stainless band, hook spring and snap button
Specifications
Resist temperature
SR type: 200 ℃ for continuous use or maximum 230 ℃ in short duration exposure
HT type: 260 ℃ for continuous use or maximum 280 ℃ in short duration exposure
Electrical characteristic
Capacity Tolerance: ±10%
Voltage resist: AC1500V/a minute
Insulation resistance value: over 100MΩ/DC500V
Size
Maximum 450mm×3000mm or 500mm×700mm
Minimum 25mm×30mm
Standard thickness: 1.5mm (4 to 6mm at electrode part)
If you need to correspond to UL, please contact our sales division.
Power density
It depends on control temperature but usually 0.8W/square centimeter is optimal.
(It will be more difficult to control temperature if you get the higher power density)
Temperature control
Analog type
For rough control (0 to 100 ℃ nob etc.)
Digital type
For strict control
We recommend you use our digital controller "monoOne".