News
2023.09.12
Announcement of publication of annual report "OMOU2022"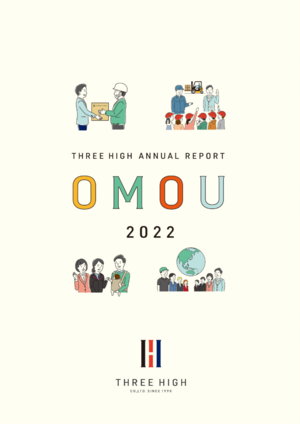 We are pleased to announce the release of 'THREE HIGH ANNUAL REPORT OMOU 2022' (hereinafter referred to as 'OMOU 2022'), where we disclose our efforts towards achieving a sustainable society along with our financial information.
**only Japanese**
We have made it available for public access on our official website.
URL:https://www.threehigh.co.jp/company/report.php
■Message from Makoto Ozawa, CEO of Three High Co., Ltd. (on the right side of the photo)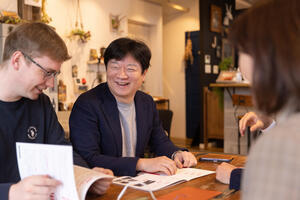 Three High Co., Ltd. has published its inaugural annual report, 'OMOU 2022.'
Throughout our history, Three High has been proactive in sharing information about our business activities. This commitment stems from our unique location in a semi-industrial area where factories and residential areas coexist.
Being a 'factory in the neighborhood' necessitates a strong relationship of trust with the local community. Building this trust requires us to actively engage with our neighbors, open our doors, and engage in ongoing dialogue. It is through these diligent efforts that we believe we have established the strong relationship we have today with our community.
Three High looks forward to continuing our journey together with all our stakeholders and contributing to the growth of Japan's manufacturing industry, starting from Yokohama.
Please stay tuned for our future endeavors at THREE HIGH.
URL for the published press release