News
2023.07.20
[Accepting Applications] "Seminar on Utilizing Diverse Talent in a Town Factory, where 72% of Employees are Women" - Event Confirmed!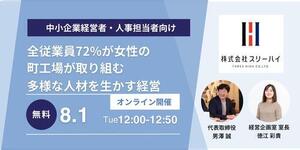 We are pleased to announce an upcoming free seminar scheduled for August 1st (Tuesday) at 12:00 PM (Japan), to be held online.
The seminar will focus on our company's initiatives towards sustainable corporate management through showcasing real-life examples of how we support the work-life balance of female employees working at a town factory in Yokohama, as well as efforts to harness the potential of diverse staff members. Join us to learn more about our endeavors!
Date & Time: August 1st, 2023 (Tuesday) at 12:00 PM to 12:50 PM (Japan).
Location: Online (The participation URL will be provided to registered attendees before the event date).
Target Audience: Human resources personnel from small and medium-sized enterprises with fewer than 50 employees, Kanagawa SDGs partners, media representatives, and etc.
Agenda (Subject to changes on the day of the event):
① Panel Discussion
Case Study on Initiatives at ThreeHigh Corporation (12:00 PM to 12:45 PM)
② Q&A Session (12:45 PM to 12:50 PM)
How to Apply:
Please apply through the registration form (https://bit.ly/46m2xeg).
Application Deadline: July 28th (Friday) at 5:00 PM (Japan).