News
2023.05.10
Introducing our New products "Insulation jacket for injection molding machines" in the May-June issue of Emidas Magazine Thailand!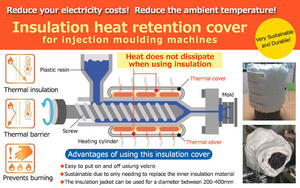 We are pleased to announce that our new products have been featured in EMIDAS, a manufacturing-focused paper in Thailand.
This article showcases our new products of insulation heat retention covers.
These covers are perfect to reduce your electricity costs and the ambient temperature!
We hope it will reach a wide audience within the manufacturing industry in Thailand.
Thank you for your continued support, and we look forward to connecting with our Thai customers and partners.
Check it here...Page 19_EMIDAS Thailand No221 (1).pdf
EMIDAS THAILAND
<http://u-machine.net/about/new/>


2023.05.08
EMIDAS No.221 MAY-JUNE 2023
Operation by NC Network Asia Co., Ltd.