News
2020.12.11
Received the award of the Minister of the Cabinet Office!
We are in an area designated as a semi-industrial area where 80 factories and residences are mixed.
The "Children's Expedition" tour, in which children tour the factory, has been continuing since 2013, as we are in such an environment.
Approximately 200 children are accepted annually to visit factory jobs and communicate management's discussions to the children.
We are awarded in recognition of such activities. Sixteen organizations win the award, there are only two "companies" among them.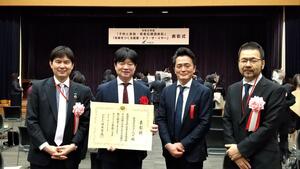 We are honored to receive the award and to be recommended by the prefectural government as a candidate organization. We keep this activity with all employees working together.